Top 10 Gym and Fitness WordPress Themes In 2017
It's the new year and you're all fit and ready to achieve your resolutions. You need people to come to your website and check out what you offer, from your services to your clients to stories about yourself! Now, how would you design your website to be as compelling as possible to your readers?
Worry not, as we've got that covered from you. In this list, we have handpicked 10 WordPress themes that are the perfect fit for your gym and fitness website. Whether you are a fitness guru or a gym owner, we have just the best themes for you. Check here more wordpress themes for other purposes!
---
FitPro
FitPro is a responsive theme that is specifically made for the fitness industry. It has 8 custom post-types – ranging from trainers, classes, facilities, events, sliders, galleries, pricing plans, and testimonials. Hence, it is the perfect theme for your service as it has the whole package in one bundle, allowing your users to navigate your site at ease.
The theme is packed with features such as WooCommerce integration, multiple color schemes and icons and a whole list more of extra features.
Price: $59
Entrepreneur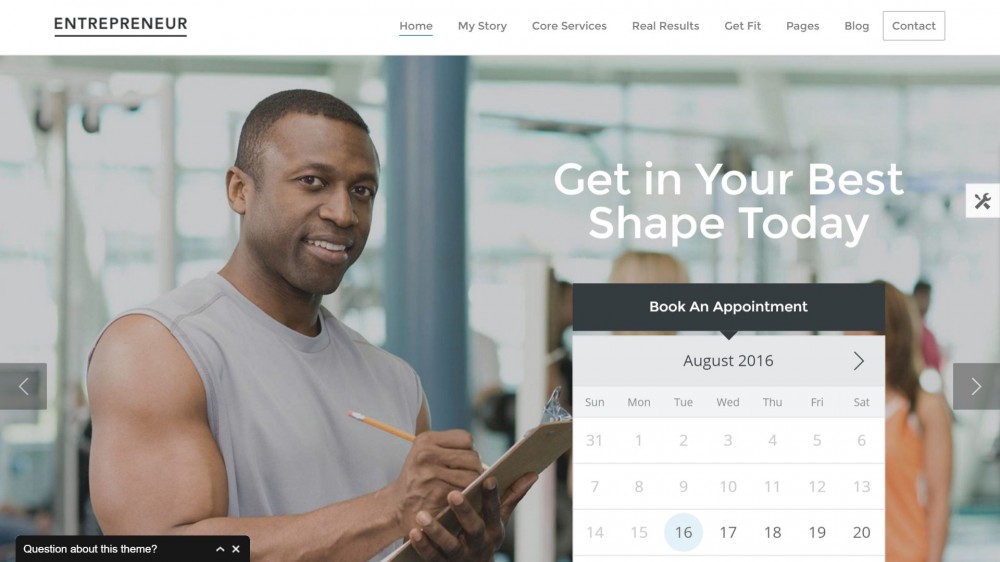 If you are solo coach or a personal fitness trainer, this theme is the best for you. With a modern and minimalistic design, users will have a field day scouring your site with easier accessibility leading to more conversions for your service.
The theme is excellent due to it's integrated calendar and booking plugin. Visitors are able to check your schedule and choose an appointment date in less than a minute, which will surely bring rave reviews to your services.
Price: $49
Athlete
This streamlined and sleek theme has been a top pick for gym and fitness themes for awhile now. The theme's design makes it pop with bold and strong colours, a good sign to show off that you are the real deal in your fitness and gym service.
With a plethora of customization options, from homepage layouts to premium plugins such as Visual Composer, this theme is a must have for any gym and fitness enthusiasts who are looking to start a website. The theme also comes with WooCommerce plugin, which is a great help.
Price: $59
Energy
Energy's vibrant and colour design makes it a perfect fit for fun and easy-going trainers who are looking for clients. The theme features full-sized photography as well as colourful building blocks.
A dynamic and easy homepage builder is included with this theme and the easy customization options allows for a better user interface and experience.
Price: $69
Yoga Fit
Built by the renowned CMS Masters, Yoga Fit is a stunning visual theme for WordPress that is aimed at yoga or dance studios clients. With respect to yoga, the theme is designed with fluidity and smoothness to emphasise the calm tones in yoga practices.
Yoga Fit is included with many options, including a custom Visual Content Composer plugin, custom form builder, and TimeTable; a plugin that allows users to check your class schedules. This theme is highly rated and you should definitely check it out.
Price: $59
Fitness Zone
This highly rated WordPress theme is suitable for people who are running fitness centers or fitness clubs. The design of the theme as well as the excellent typography helps to capture user's attention hence leading to more clients.
With an intuitive drag and drop design, you can customize your theme to anything you like. With support for multiple plugins including the essential WooCommerce plugin, this theme is set to be a star for your fitness and gym website.
Price: $59
IronFit
This aggressive and bold theme is custom-made for users who would like to show their strengths and capabilities. With a dark background and stunning visuals, this theme is set to capture your client's attention with authority and poise.
With five premium plugins installed – the highly popular Visual Composer included – you will have an excellent theme running up in no time. Also built-in is a translation friendly interface, which will help you in the long run.
Price: $59
GamePlan
GamePlan is a WPML supported theme with vibrant colours to show off your elegance and flair. With multiple color options available and the ability to feature customisations, this wonderful theme is a good fit for people who would like to be professional yet engaging with their clients.
Price: $59
Fit&Healthy
This article-based theme is best fit for individuals who are running services themselves but are knowledgeable in the fitness and gym industry.
With SEO-friendly templates and designs, this theme allows you to add up to 6 advertisement boards in a non-spammy way as well as allowing customization to fit your needs best. All in all, a great theme to have for article writers.
Price: $59
Gym & Fitness
This theme is fully optimized for WordPress and comes with over 500 custom icons. With the Revolution Slider, users can customize the theme easily as well as create custom designs and templates.
Included with the theme is a timetable plugin for readers to locate your schedule and make bookings and appointments.
Price: $59
Check Skywarrior templates for more options!