Top 8 WooCommerce WordPress Themes In 2017
With e-commerce being a major part in the modern entrepreneur's life today, it is no surprise that platforms have been made to cater this demand. One of the best platforms available right now is WooCommerce, being one the leading e-commerce platforms for users and customers alike.
In this list, we have selected a collection of the best WooCommerce themes in 2017. We have selected them base on design, accessibility and a variety of other features that would help you in your business. Discover more themes with WooCommerce here!
---
Legenda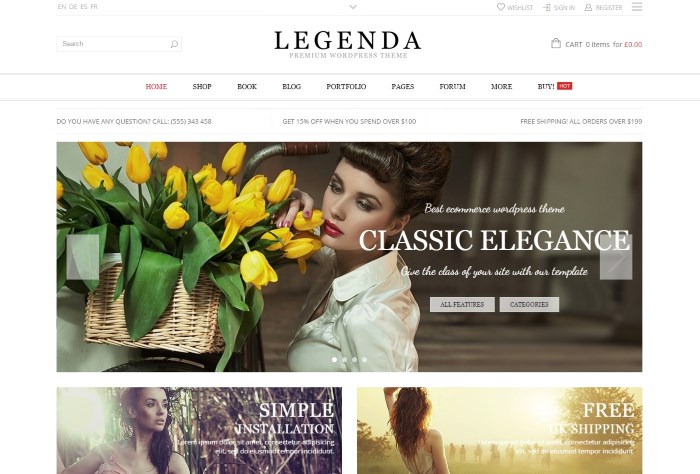 Legenda is a WooCommerce WordPress theme that is designed to run a variety of stores based on categories. The theme developer delivers demos for a gaming, retail, books and more. The theme features a lot of details that you would need in a website.
The theme incorporates a sleek design that's primarily black and white. Because the design is minimalistic, the center block focus is excellent for displaying your products. This theme is optimized for mobile and is easily customisable.
Price: $59
Oleander
Oleander is a powerful and modern theme for WordPress sites. This theme has a host of excellent features which help in making your site sleek and easy to read by your users.
With a mobile-optimised site, You can choose from many layouts according to what you like as well as many types of unique formats. The theme's support for Contact Form 7 has made it very easy to generate contact form's to be utilized by your customers.
Price: $59
Storesy
Storesy is a simplistic premium theme released exclusively for WordPress, the design is one of the best to have been released so far. This theme can be easily passed on as one of most flexible sites for e-commerce. If you are a user who wants to build a lot of websites for your client, you can save a lot of money due it's versatility.
The theme is filled with 10 beautiful homepages. and comes with a number of excellent features such as unlimited colors & typography options, as well as containing the important Visual Composer plugin.
Price: $49
Zeon
Zeon is a wonderful WooCommerce theme that is great for blogs or agencies that are used to portray portfolios or clients. The premium theme is great for creative artists and agencies that are looking to build a website.
The theme has a flexible homepage layout that can be used for plethora of e-Commerce options. The theme is mobile optimized and comes with an intelligent and responsive design..
Some of the other key features of the theme include: social media support, contact & subscription form, google maps, featured slider, custom backgrounds, and more. In addition to that, it also comes with Slider revolution plugin worth $15, included for free.
Price: $59
Aurum
Aurum is a WordPress WooCommerce theme that focuses on minimalistic concepts, instead of clutter and messy options that are not needed. It has four layouts for selling a variety of goods and products. It also comes with an intuitive layout builder that is utilized through drag and drop.
Aurum is fully responsive and works excellent on tablets and mobile devices.  This theme comes with a flexible options page and include a host of features that can be used to customize the website according to your liking.
Price: $69
The Retailer
A classic theme that offers clear content presentation and a classic design. That being said, it's specifically designed to be as sale friendly as possible, and it does not add unnecessary features to your website.
The design is clear without many useless features and all your products are highly visible which guarantees user engagement. The theme is fully responsive and is fully optimized for mobile. The navigation is excellent and allows you to display your products under every listing.
Price: $59
WooCart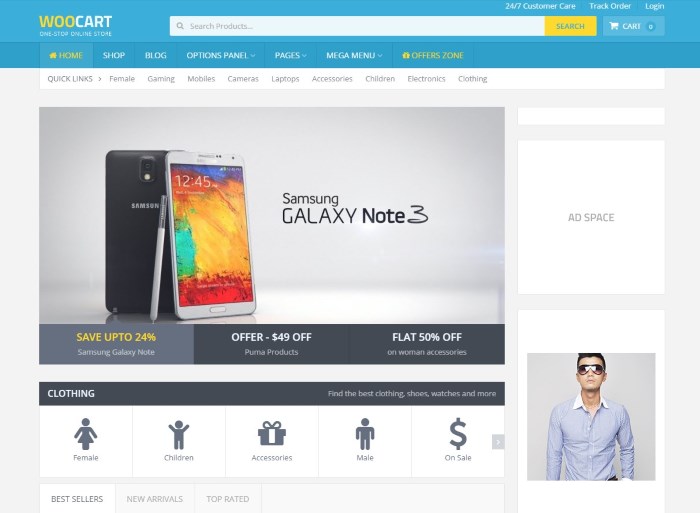 A timeless WooCommerce theme for WordPress that is an excellent choice for users with a large product list. The theme offers multiple ways to list your products and make them available to your customers.
The design is appealing to the eye and doesn't distract viewers from the products. The theme is also responsive as well as mobile and tablet friendly with unlimited sidebars and customization options. The theme is also built with full translations to allow shops in different languages be setup.
Price: $59
Lemon
Lemon is a beautifully designed, and business friendly WordPress WooCommerce website theme. Lemon has been constructed to serve users who are completely new to design and have zero coding skills. With that being said, the theme is also available to experienced users due to it's customization tools.
Lemon packs a 3 demo sites to be chosen from as a base template for your site as well as 3 different blog styles for you to update your users or post articles relevant to your interests. The highly-coveted Visual Composer and Revolution Slider plugins have been included as part of the package, allowing you to adjust your layouts to your liking as well as bringing your ideas and concepts to life with a simple to use interface.
Price: $59
To make a gaming website for yourself, click the above link!