Top 10 Restaurant WordPress Themes In 2017
An excellent restaurant website brings potential customers to your business thanks to engaging menus and designs as well as the integration with highly rated and valuable plugins to help your customers book orders without the hassle of calling or e-mail which takes a long time to process.
In this list, we have a look at some of the best WordPress restaurant themes that are available now if you are looking to setup a website for your restaurant or anything related to the service business. See here more themes or keep reading below!
---
Delicio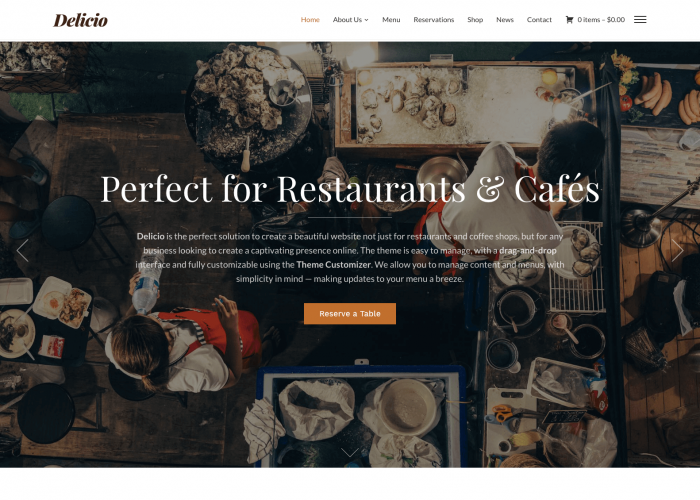 Delicio is an excellent WordPress theme designed specifically for restaurants. It comes with location services and a full-scale menu service as well as WooCommerce support, which is vital in setting up an online business. It is compatible with most popular restaurant reservation plugins allowing you to accept bookings or reservations from customers immediately.
Feature a large header, unique designs and a variety of call to action buttons, this website is a must have if you are looking to setup a restaurant WordPress theme.
Price: $69
The Flavour
A sleek and modern restaurant WordPress theme for restaurants and cafes alike that exudes class and confidence. The theme has been designed to portray a professional look, with elegant and elaborate content sections. The full screen layout that is included with this theme also brings users to engage more in your content, hopefully leading to more clients.
With a responsive design that's designed for mobile devices and tablets as well as being Retina ready, this vibrant theme is the perfect fit for people who would like to start their own website with no knowledge in website setups, thanks to its intuitive layout editor.
Price: $55
Amici
With a unique and captivating theme design, the developers of this theme have done a great job of simulating the navigation menu to make it look and work just like a restaurant menu would with page turning animations on each click.
With over 600 fonts installed in the theme, Amici is also responsive and mobile ready as well as being integrated with the popular OpenTable plugin. Oh, did we also say that it is retina ready?
Price: $49
Sage
The developers of Sage have done a great job with this theme, offering you 40 different complete demos that you can easily adapt for your own website. Be it a bistro or something exotic, this easy to use theme will definitely be a real gem in your business due to its simple design editor.
Sage allows you to market your products with an excellent formatting of beautiful imagery to seduce your customers. With an intuitive drag-and-drop menu and homepage creator you can give your customers a virtual tour of your kitchen right from your customer's room. With as much as 20 menu pages, you won't run out of options to list your products which leads to better customer service and satisfaction.
Price: $59
Seasons
Seasons is a wonderful WordPress theme for restaurants and anything food related. The menu page is easy to be designed and edited due to its drag and drop editor which saves you the headache of countless hours coding and designing without any help.
Apart from that, it is packed with features you would get from a premium WordPress theme such as unique sliders, customized options and tons of layout editing and templates.
Price: $69
Umami
Being a stylish and sleek restaurant theme for WordPress, it features a fullscreen layout that helps to capture customer's attention as with effective call to action prompts. Each post and page can be customized to have its own feel and style.
The theme also comes with a simple but powerful custom management editor. You can easily design a menu and add your offerings in less than 5 minutes as well as tugging a lot with custom widgets, shortcodes, Google Fonts, slideshow, and tons of other premium theme features.
Price: $49
Greek Restaurant
This theme, surprisingly,is a free WordPress restaurant theme. Based off Twitter's bootstrap frameowrk, this theme is retina ready as well as being fully responsive which works well on tablets and mobile devices.
Despite being free, it comes with a host of premium features that would pleasantly surprise you such as custom headers, full width pages, shortcodes and an efficient reservation system that allows you to collect bookings and information immediately.
Price: Free
Mise En Place
Next up in our list is Mise En Place, a gorgeous and artistic restaurant WordPress theme designed for restaurant owners and food enthusiasts alike. It comes with a menu management system as well as including support for the essential WooCommerce platform.
The homepage of your website can be easily customized using the simple page editor as well as custom widgets that allow you to easily show contact info, business hours and information of the same sorts.
Price: $49
Resca
Resca is an intuitive and wonderfully designed restaurant WordPress theme. It is designed with the needs of all food-related businesses in mind which makes this one of the best themes to acquire if you are looking to start a website of the same sort. Resca is built with vibrant colours, allowing your customers to feel more engaged as they look through your menu and services.
This theme allows customers to book tables immediately with the advanced reservation system built in, allowing you and customers a peace of mind. Resca is also designed to be responsive, and looks absolutely gorgeous whether it is on mobile devices or tablets alike. Several excellent layout templates are ready for you, which will set you up for a proper website in no time.
Price: $59
Bettaso
Bettaso is a carefully crafted WordPress theme for cafes and restaurants. It is packed with an intuitive drag and drop page builder as well a menu section and an efficient reservation system for customers.
It has tons of colors, layout options, and skins which allow you to format the theme to your liking. It also provides over 600 different fonts, Google Maps for locations, and has a boatload of other features that will blow you away.
Price: $59
Found what you are looking for? If not Skywarrior premium themes cover more options!