Top 9 Health and Medical WordPress Themes In 2017
Health and medical services are the searches for client services anywhere in the world, whether if you are in Asia, Europe or anywhere else. In the information technology year, a great impression comes from the way your website and services are presented to the public, hence attracting clients from the feedback that follows.
All these themes are of the highest quality as well as being easy to customise thanks to the features that are included with these themes. Without further ado, let's head on to our list, or find website themes to use for other purposes here!
---
MediCare
Medicare is an exquisite and professionaly designed WordPress medical theme. With a host of large medical websites using this theme, you can be assured that your clients and users alike will be engaged to the content of your website with this theme.
With a whole list of medical professionals who have based their website off this theme, and with the Rapid Composer plugin allowing users to customize the page with absolutely no need for coding knowledge, and its potent admin panel settings, Medicare has established itself as the go to for medical and health themes in WordPress for 2017.
Price: $59
MedicalPress
MedicalPress is an excellent WordPress theme specifically designed for medical and health pages. It features a massive collection of theme options for easier customization as well allowing for a greater ease of use.
The theme is fully responsive, which means that the page will adopt to any screen size which are of great help to mobile and tablet users.
2017's version of MedicalPress have also included the WooCommerce plugin which is essential in running online stores which allows merchandising and product sales to be a part of your overall business plan. An expansive documentation guide has been included with the package which guides you through the installation and customization process, further lowering the difficulty barrier of site ownership.
Price: $59
TheGem
TheGem is a flexible and versatile theme that is excellent for virtually any business. Amongst its wide range of 52 homepage demos is an amazing health and medical template that can be used in any website that are looking to setup. If not, features from any demos that you want can be transferred to another to create a design catered to your liking.
The dozens of features included with this theme doesn't stop at homepages. In fact, with the inclusion of the highly popular Visual Composer plugin which comes with the theme, you can also choose from eight navigation options in over 20 styles as well finely tuning your site to match your user's expectations and needs. Being mobile devices and tablet compatible, this theme is surely one of the top picks among the best health WordPress themes.
Price: $59
Medico
Medico is an efficient theme that can help build your website into a helpful resource for readers. With a flawless navigation menu, an integrated contact form and a very well structured information page, you can find everything you need in no time. This theme allows you to publish portfolios and blog posts in a manner that is clean and engaging to readers.
This theme features a responsive theme optimized for tablets and mobile devices as well as unlimited sliders support, easy to use admin customization and a price table builder among its list of features.
Price: $59
We Care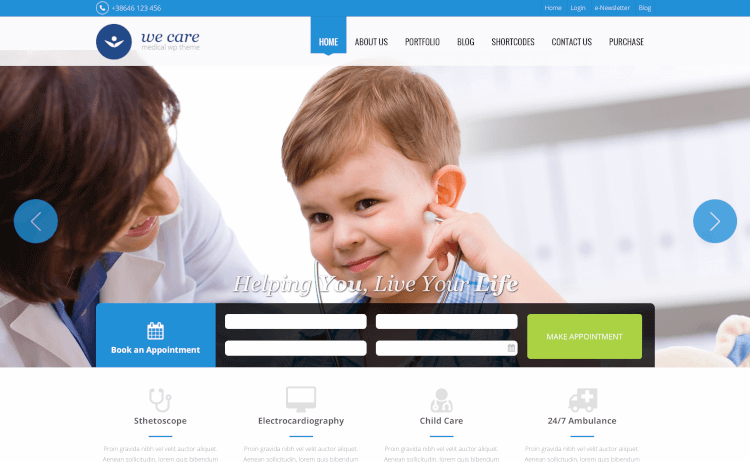 The combination of white and blue colors is a nod to classic health related color schemes. It's a theme that you can handle very easy due to the intuitive integrated layout editor. The information provided on the theme is organized and easy to look at as well as including efficient menu blocks that allow you to quickly find what you're looking for.
The theme features a responsive layout for tablets and mobile devices as well as a modern appointment form complete with advanced admin customization among its plethora of useful features.
Price: $59
HealthFlex
With competition looming for healthcare providers, making sure you can allow a substantial number of patients on your books is important for a business' stability. It's of the utmost importance to capture a potential client's attention website and with the excellent design of HealthFlex, you can be assured of that.
HealthFlex is unique compared to every other WordPress theme as their fonts are chunky, and the default color scheme designed to be minimalistic yet effective. Layouts are easily designed and customisable with a bundled version of the Visual Composer plugin, and the theme also includes a number of fun animations provides a calm tone, yet professional vibe.
Price: $69
Dictate
Dictate is a multiple themes bundled in one package that works for any type of medical related websites which is a great option to have. Medical staff profiles can be displayed on the home page and patients can book appointments via an integrated booking form which works great.
Other features include an event and timetable management system which is very well designed as well including the Visual Composer plugin (worth $30), which has 78 built-in elements and is widely lauded as the best page builder plugin for WordPress.
Price: $59
OneLife
If you are looking for a site that specializes in pricey and expensive packages for your business, then OneLife is the theme for you. With a sleek and professional design that features large and vibrant images, this theme will inspire confidence in potential clients and patients.
This theme isn't all flashy and sexy designs, it also includes essential features for any type of medical and health websites, including a doctor information and details page, a couple of excellent appointment forms, and a business locator. Especially relevant to high pricing businesses, it also lets you easily design and edit pages that explain procedures and display your packages.
OneLife also has customization options you would want from any premium WordPress theme which includes multiple color schemes, plenty of shortcodes, and free inclusion of the highly rated Visual Composer plugin.
Price: $69
Physio
With a theme as well designed such as Physio, your website offers a welcoming and personal vibe to put your patients at ease and confidence with the services you offer.
Physio's vibrant color scheme escalates the friendliness of the site for a better user experience. If you're after a different or unique look, Physio includes a number of easy to use customization options within the WordPress Theme Customizer, and layouts can be designing using a drag and drop interface.
Being responsive and mobile friendly, this theme is a complete all in one package for WordPress site builders. This theme also bundles the premium Booked plugin which enables patients to book appointments based on your schedule and operating hours which is a wonderful option to have in attracting clients.
Price: $69
If you didn't find what you were looking for, visit the Skywarrior themes site!